How It Works - Getting Fast Cash Advances (Fast Payday Loans)
Getting a fast cash advance (fast personal loan) is fast and simple with our online personal loan application.
Fast Simple Online Cash Advance (Payday Loan) Application Process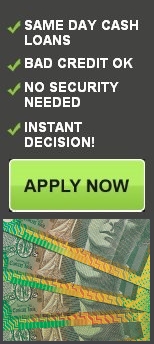 Getting a Fast Cash Advance (Fast Payday Loan)
There are 3 Simple Steps to getting money wired to your account:
1. Apply for a Cash Advance (Payday Loan)
Fill out an easy 2 minute secure online application form. Tell us how much money you need. Submit your application to get instant approval.
2. You are Approved
Upon approval, you are provided with further instructions and asked to confirm that you wish to proceed with the cash advance (payday loan).
3. Transfer Funds
Once you agree to the terms and conditions, the funds requested will be wired directly into your account within 24 hours*.
* Subject to approval times and lender's own policies. In most cases, funds will be deposited the same working day, if approved by 2:30pm that day.
In more detail, follow these simple steps ...
Complete our online application form (for "first time" applicants) and submit.
Your application will be processed instantly online and you will be notified instantly online of the status of your application.
Please note that final approval is subject to confirming the information that you have provided in your application.
You will immediately be sent an SMS text message (to your mobile phone no. that you advised on the application form) as well as a verification email (to the email address that you advised on the application form).
Check the SMS text message and retrieve the 8 digit code provided which you will need to use to digitally sign (eSign) your application.
The SMS text message will also provide you with your Agreement reference number.
Check your mail box and open the Email Verification sent to you.
Also check your mail junk box / spam box in the event that the Email Verification was placed there by your ISP / mail provider.
Open the Email Verification and click on the link provided.
This will take you to the digital signing screen.
Input the 8 digit code (that you received via the SMS text message on your mobile phone) and click confirm.
You have now digitally signed (esigned) your contract.
You will then immediately be sent a Application Complete email which will congratulate you on your success and advise you that from here the funder aims to transfer the funds into your account within one working day.
The Application Complete email will also advise you that the funder will automatically email updates to you throughout the application process and advise you if they need anything further.
The Application Complete email will also provide you with a link where you can view and print a copy of your Loan Agreement.
You will be updated throughout the progress via email and / or SMS text message.
Provide any required documents / information via email, fax or mail.
Money is deposited into your bank account electronically.
* For future cash advances (payday loans) you just need to log in to the existing customer area and nominate the required cash advance (payday loan) amount up to $600 and the payment will be made to your nominated bank account within a matter of hours.
* Maximum loan amounts are subject to affordability and suitability assessments performed by the underwriting team.
If for some reason you are not successful with your initial loan application, please feel free to request a re-assessment of your application.